I get invitations to sign up for various newsletters several times a day. I'm sure you do too. I don't know about you, but I ignore most. I've recently found a fantastic exception – The Morning Brew. I absolutely LOVE this newsletter. It's concise, humorous, and packed full of interesting content on a variety of topics. 
Then, is it any wonder why I've been subscribed to the Morning Brew for longer than any other newsletter? It shouldn't, because this is one of those emails I make a point to read. I wish I knew about this back when I worked a job.
I love this thing – not just because of the information, but because the sucker is flat beautiful; way more colorful than any other newsletter I've seen.
I just love the blue.
Here's a screenshot of the June 5th Morning Brew: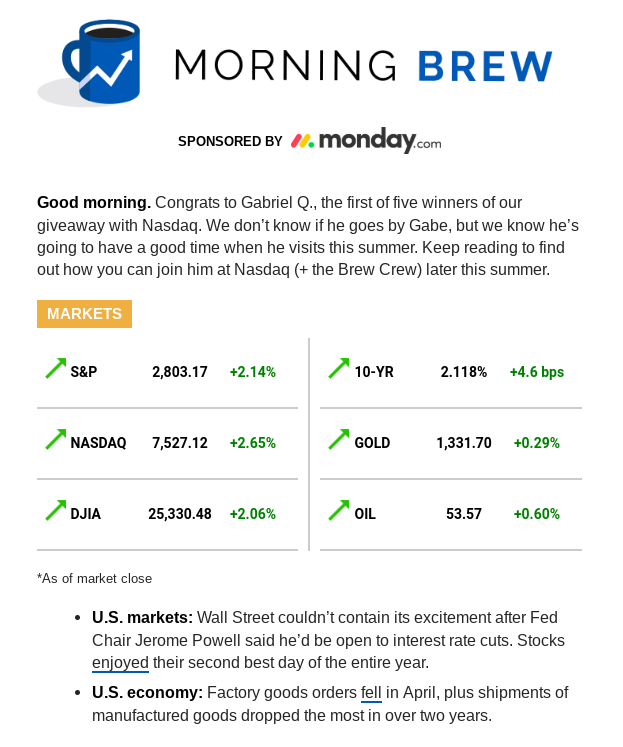 Morning Brew newsletter from June 5th, 2019
What is the Morning Brew?
It's a daily newsletter (yes, that means Monday through Sunday – and Sunday only if you've "earned" the privilege) designed for professionals – especially those who are gainfully employed. But frankly, you don't even need a damn job to appreciate the message that each newsletter delivers.
Come for the intelligence, but stay for the writing.
These things are written by witty, clever writers. It's not just business-speak. We're talking, like, actual humor. The latest from the stock market. Major news events without all the hyperbole that you'd get through the 24-hour news cycle.
"Yesterday, U.S. Senator and 2020 presidential candidate Elizabeth Warren announced an economic plan as part of an agenda called "economic patriotism." Somehow, it doesn't involve giving Mark Zuckerberg a wedgie." – wrote in the June 5th newsletter.
Stuff that I can't help but take a snippet of and post on Twitter.
Like this: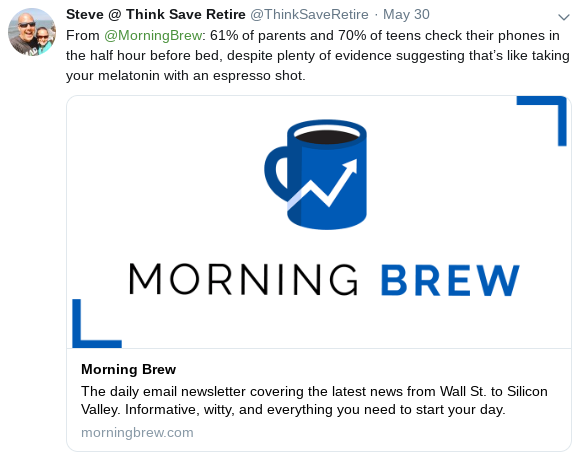 One of my favorite parts of the Morning Brew is the 'What else is brewing' section toward the bottom where they give us some quick and easy news bites from the day (or days) before:
And get this: about a year ago, the Morning Brew had about 200,000 subscribers. Today, they have over 1,000,000. They are doing something right, and that's probably the reason why I've remained a subscriber.
From your cell phone or a desktop, this free daily newsletter is definitely worth a read. Click the banner below to sign up and give them a try.

If for whatever reason you're not into it, just unsubscribe. 😀
This post was expertly written by and originally appeared on ThinkSaveRetire. It is republished here with permission. 
This post contains affiliate links. Read the disclosure page for more details. 
Follow us